Historical houses in Kashan, a city over 7000 years old in Iran, is very well-known for its beautiful historic houses. These houses date back to the 18th and 19th century. They can attract lots of tourists and art lovers from all around the world. These houses represent the unique and valuable architecture of Iran which have preserved their historical identity and flavor over time.
General features of historical houses of Kashan
There are some common features in these houses that make them unique like accessible materials such as brick, mud, straw, and mirror for making inner space more beautiful and thick wooden doors for protection.
1)Interior section
This part of the house used by the family members as their comfort space
2)Exterior section
This part of the house could be quiet large and accommodating, this was meant for the guests who didn't consider to be family.
3)Servant section
This section which could have its own entrance and used by the servants who served their landlords.
4) The windows of the house
Another characteristic of Kashan historic houses is that none of them had windows looking outside. All of the windows looked inside the building and some at the country yards for more security and privacy.
Here, we introduce some of the most famous and beautiful ones.
Tabatabaei House
One of the most beautiful monuments and architectural masterpieces of Kashan and is almost 186 years old. It includes 3 inners, outer and the room for the crew which is decorated magnificently.
Borujerdi House
This 130-year-old beautiful building dates back to the Qajar era, the architecture of this house is among the greatest. This house has many similarities to Tabatabaei House. The reason of this similarity is that the son of Borujerdi family fell in love with the daughter of Tabatabaei family and proposed to her but the girl's father demanded a house like his house to be built for his beloved daughter. There are some remarkable paintings under the supervision of Kamal-ol Mulk, the famous artist of the Qajar government in the 19th century.
Ameri Historical House
One of the biggest and most beautiful historic houses of Kashan is currently a 5-star hotel dating back to Zand dynasty, it has 80 rooms and 7 yards and the interesting point of this house among all the houses is that it owns the highest wind-tower.
Abbasian House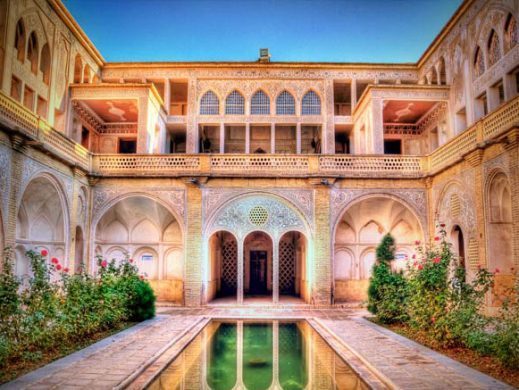 This complex is a collection of unsurpassed decorations and architecture of Iran. It included 5 yards and gardens but each was sold separately after the death of its owner. It is over 190 years old. The architecture of this house is very special and it is made of 2 parts separately for summer and winter.
For more information and knowledge about the tours in Kashan Contact us.