Photography Tour: Iran is very rich in terms of tourist attractions and can be a good host for foreign travelers; People who come to discover the real Iran by seeing the magnificent historical monuments and attractive sights of our country.
This time we want to share with you one of the prepared lists that deal with the favorite places of foreign tourists to take photos in Iran; Under this pretext, we will review the beauties of our country. In the end, it is not bad to mention that these places are in fact the most popular hangouts for taking Instagram photos.
Azadi Tower
However, at present, Milad Tower is more important for Iranians; But Azadi Tower is still the main symbol of the capital for foreign tourists, and travelers must visit this tower during their trip to Tehran and take a selfie with this structure. It has become so popular that the municipality has installed a statue of a man taking a selfie with the Freedom Tower in a corner of the square.
Imam Mosque of Isfahan
Imam Mosque is one of the most magnificent mosques in Iran, which shows the art of Islamic architecture in Isfahan, and the turquoise dome of this mosque shines like a jewel on the ring of the city. Numerous innovations have been used in the design and construction of this historic building, which reflects the taste and intelligence of Iranian architects. This mosque is located in Naghsh Jahan Square and is part of the Naghsh Jahan Square World Heritage Site.
Ali Qapu Palace
Ali Qapu Mansion is located in Naghsh Jahan Square in Isfahan and is considered a UNESCO World Heritage Site. The motifs of this building, its music room, which is special and general fame, and of course the unique view of Naghsh Jahan Square, have caused the tourists to pay special attention to this mansion.
Sultan Amir Ahmad Bath in Kashan
This historic bath is located in a corner of Kashan city and is named after the nearby shrine. Sultan Amir Ahmad Bath is a unique example of Iranian baths and is less of a competitor in terms of architecture and decoration.  Although there are many baths in Kashan, including Bagh-e-Fin bath, Gozarno bath, Abdul Razzaq Khan bath, etc., this building can be considered as the most important one.
There are many beauties inside this structure, but tourists pay special attention to the roof of the building, and they must not forget to take pictures on the roof of the bath of Sultan Amir Ahmad during their trip to Kashan.
Pink Mosque
No trip to Iran will be complete without sightseeing at the Pink mosque (Nasir al-Molk) Mosque in Shiraz. Nasir al-Molk Mosque is mentioned as a place of light and color. It is famous for its stained glass windows and offers amazing and different lighting to visitors. In the tiling of this building, a soft pink color has been used, which has doubled its uniqueness and has even caused it to be called the "pink mosque"; A nickname that is very popular, especially among foreign tourists.
Bourujerdi's Traditional House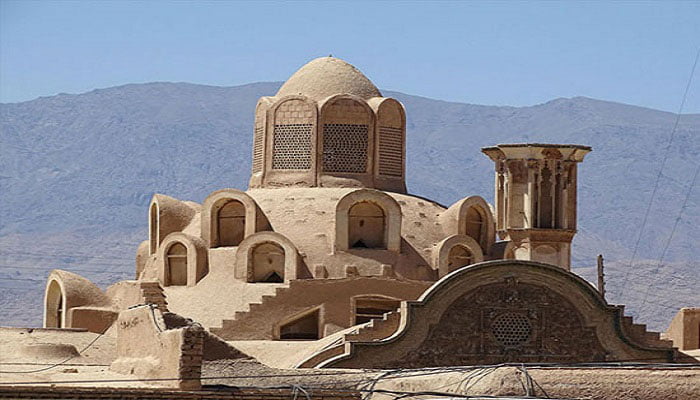 Boroujerdi's house was built during the Qajar period and is considered one of the national monuments of our country. The owner of this house was named Haj Seyed Mehdi Natanzi; He was one of the Natanz merchants living in Kashan who became known as Boroujerdi due to his numerous trips to Boroujerd. The dome of this house can be considered a masterpiece of Iranian architecture, which can also be seen from the roof of Sultan Amir Ahmad's bathroom. Tourists pay special attention to this historic house so that in 2015 and 2016, this building became the top choice of UNESCO in terms of popularity among foreign tourists.
Abyaneh Village
Abyaneh village is located 40 km northwest of Natanz and at the foot of Karkas mountain and is considered a part of Isfahan province. The red buildings of this village and its 1500-year history have attracted the attention of foreign tourists to this village. Another interesting thing about Abyaneh is the residents of this village, most of whom are very old and can be seen in the alleys and back alleys of the city with their unique coverings. Interestingly, these local people of Abyaneh have also become some of the city's spectacular attractions, and travelers are very interested in taking pictures with them.
Golestan Palace
Golestan Palace is located in 15 Khordad Square and is a relic of the Qajar period in Tehran. Since this palace is located in the old part of Tehran, it evokes the atmosphere of the capital in the distant years, and by walking in this palace, it is as if you have traveled to history.
The building is also on the UNESCO World Heritage List. The architecture and decorations of Golestan Palace have attracted the attention of many people, and the tiles of the complex are unparalleled in the world. All this has made this beautiful palace one of the most famous places in Tehran for photography, and foreign tourists have to take many pictures of themselves, next to the colorful and beautiful walls of Golestan and publish them on social media.
More beautiful places for photography: